Scotland's Climate Week provides a great opportunity to highlight new renewable heating sources for forward-thinking businesses to adjust to cleaner, greener energy in order to reach Net Zero carbon emissions by 2050 in the UK. Renewable heating can improve efficiency, reduce energy emissions and improve cost savings alongside corporate social responsibility.
The built environment is central to this transition, contributing roughly 40% of Co2e emissions globally. The current energy crisis is an incentive to phase out fossil fuel boilers and transitioning to more renewable forms of energy, with gas and electricity prices at an all-time high and expected to rise further.
Legislative Strategies
Long-term targets require certainty and clear end-points driven by regulation to build supply chain confidence along with increased investment and upgrading of skills. Scottish legislation through the Heat in Building Strategies targets both domestic and non-domestic pathways to zero emission buildings by 2045. Domestic regulation requires all homes have an EPC rating of C or equivalent by 2033, with all homes using zero emissions heating by 2045. Consultations are ongoing for non-domestic buildings expected to be introduced by 2025 requiring owners to reduce heat demands through zero emissions heat supply and energy efficiency improvements.
The quality of EPC assessments are under review, so that moving forward they are effective in driving regulation and ensuring energy efficiency and heat decarbonisation measures meet needs for net zero objectives. For example, current EPC ratings can be downgraded by replacing electric storage heaters with gas or oil boilers, 'with a switch to heat pumps disincentivised" (CCC, 2021). EPC's must continue to be a regulation tool for energy emissions and fuel poverty.
Legislation will drive the installation of zero or very near zero emissions heating systems for existing buildings, by phasing out installation or replacement of fossil fuel boilers in off-gas properties from 2025 and all areas by 2030. For new builds it will require that all new domestic and non-domestic buildings, with a building warrant applied for from 2024, use zero emissions heating.
Minimum Energy Efficiency Standards (MEES) and EPC legislation in England and Wales requiring commercial properties to have an EPC rating of E or better by 1st April 2023, increasing to a rating of EPC A or B by 2030 for all non-domestic private rented properties. ESG and green credentials are becoming central to corporate commitments for both owners and occupiers. Matching goals will reduce waste and carbon emissions, lower operating costs, reduce risk and improve competitiveness for both owners and occupiers. Owners will have improved tenant satisfaction and occupancy rates, whilst occupiers will improve user wellbeing and productivity.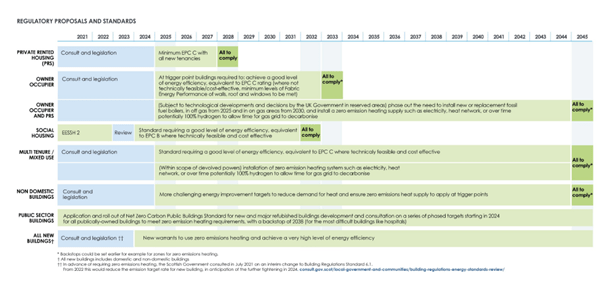 Heat Pumps
Heat pumps work by upgrading heat from a source (such as the air, ground or water) through use of a compressor and liquid or gas refrigerant to produce higher grade heat capable of heating buildings.
Heat pumps are 300-400% more efficient than direct electric heating options and even more efficient than gas combustion technology. Therefore, savings are significant versus existing electric heat sources and heat pumps can be more cost effective than combustion sources depending on the differential fuel costs and the efficiency of existing boilers.
Heat In Building Strategy and ESG commitments mean businesses must see renewable heating as a long-term investment to drive low carbon heating solutions. Heat pumps will be "game changing" for the UKs renewable heating infrastructure, as the government sets a target of 4.5m+ domestic and non-domestic installations across the UK.
Biomass Boilers
Biomass boilers are a more eco-friendly net zero carbon combustion heat alternative. Biomass boilers are a renewable source of energy reaching similar levels of efficiency as gas and oil boilers.
District Heating
As well as national legislation, businesses must be diligent towards Local Heat and Energy Efficiency Strategies (LHEES) which are likely to come into effect in the near future, setting out long-term plans for energy efficiency and heat decarbonisation.
District heating provides a simple solution for renewable heating for homes and businesses across the UK, by taking energy released as heat from a range of energy sources and providing this energy to consumers. The Linen Quarter housing development in Dunfermline benefits from an effective district heating system, with heating supplied from a central source via the local landfill. Consumers have reduced energy bills, reduced systems maintenance costs and a system with a longer lifespan that traditional gas boilers providing economic and social benefits to the Fife community.
Heat Networks (Scotland) Act 2021 aims to accelerate heat networks by introducing a regulatory system to boost consumer confidence and greater certainty for investors. Copenhagen has approximately 98% of all buildings connected to a heat network, with Warsaw heat network covering over 50% of the city, indicating the scale that these networks can extend to. Suitably located, low carbon heat networks provide a heat decarbonisation technology which will support Scotland and the UK in meeting Net Zero targets.
At Graham + Sibbald, we are well placed to help our clients work towards their energy and sustainability goals. From planning and technical services advice to analysis of your carbon emissions and usage, we will work with you to determine realistic and cost-effective solutions.
To find out more about the renewable heating options available to your business, visit our website – www.g-s.co.uk.